3D printing technology has been moving forward at a rapid pace, but endorsement by high-profile companies and officials is a pretty recent thing, not counting university research papers and studies.
Now, something has happened that could rank high up in terms of public awareness on the same level as HP's entry on the additive manufacturing front.
More specifically, 3D printing technology has, for the first time ever, been used to create a portrait, or bust, of a United States President.
That means that Barack Obama has just become the first US president in history to get his portrait made via 3D printing technology.
The first presidential 3D printed portrait
In what may very well become a new fashion for United States presidents, Barack Obama allowed himself to be scanned. On camera.
Below you have the video of how it all happened. Obviously, it doesn't show the whole process (it would have taken too long), but fast-forwarding and highlight snapshots show the key parts.
You can clearly see near the end that the three-dimensional model is a pretty much perfect representation of the man's visage.
After that, a 3D Systems 3D printer was used to produce the plastic sculpture, through FDM (fused deposition modeling).
The figure was blue initially, but post-processing proved as useful as ever. The process concluded with a physical model of the president that looked no different from normal clay/stone statues.
The implications
With this, 3D Printing technology has been acknowledged as a useful and promising field of research and development in the United States of America.
Having some universities offering graduate courses for 3D printing and 3D bioprinting had that covered, true, but Obama's endorsement basically turned 3D printing from a niche market into something that everyone in the USA knows about.
True, if all presidents and other public figures start using additive manufacturing for statues of themselves, it will put some currently well-off artists out of business. But there's irony for you.
Then again, nothing is stopping those same artists from adopting 3D printing themselves, or from practicing their painting skills. After all, until full-color 3D printing is mastered, someone will have to paint all those sculptures over.
If you're looking to have yourself immortalized in 3D in a similar fashion, don't worry about how big the setup in the video was. Partial- and full-body scanners don't need to be so wide or far-off. The ones there needed to provide enough room for good video and photo perspective.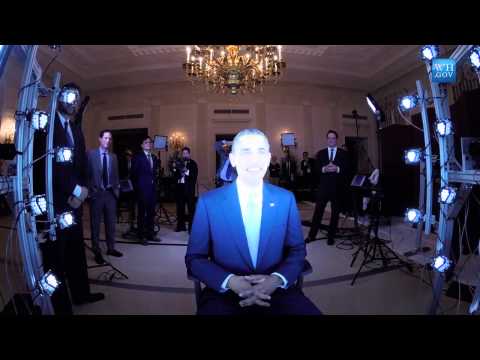 Play Video