Wearable technology has been advancing quickly over the past few years, but most of the gadgets invented (smartwatches, augmented reality headsets, virtual reality glasses, etc.) have only been preludes to the big stuff. Also, none of them really became game changers.
The device created by one Brian Cera probably won't turn the world upside down either, but it will give everyone at least one moment's pause.
After all, how many 3D printed gloves can claim to possess the ability to substitute for a smartphone? None, that's how many, until now at least.
Brian Cera is a professional artist whose passion lies in technological art for public spaces, as well as video game installations. Plus various other areas depending on his mood.
The glove came about after his decision to try a more complex 3D printing project, one that did more than integrate a Bluetooth receiver or some other minor circuitry.
The Glove One
As far as products names go, it's not the most grand and not the most imaginative one, but it's not supposed to be and does not really need to be either.
Cera started from his observation that most people have become so attached to their phones, so reliant on them, that they may as well be an extra limb.
It is that limb that he wanted to once again incorporate into, well, the actual limb. And since there is no way man will discover cybernetic implants/prostheses with smartphone capabilities overnight, a glove would work just as well.
We're making abstraction of the general reluctance of man to change anything about human anatomy and physiology unless constrained by illness or injury.
The gloveheld phone took about two months to design and build, and 3D printing technology played a major role.
The artist had to hack a bunch of electronics (which he loved). He opened up an existing phone and removed all the buttons and switches, then soldered the proper wires and components together into the masterpiece you see below, in the video.
This allowed him to utilize phone functions (taking calls and such) just by moving or tapping his fingers together (or spread them apart for that matter). Know the "call me" sign? Now you can use it literally.
Availability
Cera didn't release the Glove One as a retail product, but he has published the plans to make your own on Instructables. He used SolidWorks software to create the files for the glove, but if you're familiar with some other CAD program, it should work as well.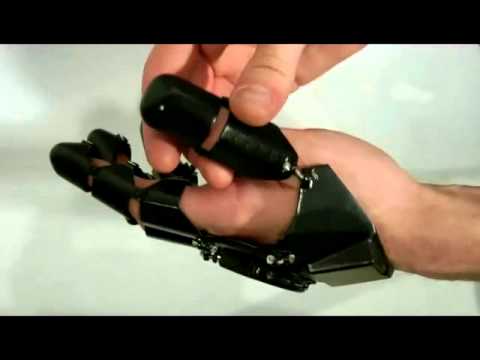 Play Video