It was amazing enough when someone finally managed to get a 3D printer to imitate the outer texture of hair, but actually printing realistic hair isn't something anyone really expected to see for years. It shows what we know.
Perhaps we're jumping the gun saying that, as the new 3D printing technique created by Orlando, Florida-based artist Mark Leonard can't quite produce realistic hair.
However, the so-called "fiber bridging" technology is nonetheless quite remarkable, as the above picture gallery may have already let you surmise.
Admittedly, fiber bridging isn't a technique that Leonard himself invented. However, it was he who refined it to the point where we could make a paintbrush with it. Yes, a paintbrush. Not an artist's brush perhaps, but a paintbrush nonetheless.
Spyder 3D World teams up with Leonard
Mark Leonard works with Aztec Scenic Design but he partnered with Spyder 3D World this last week in order to launch a new technology section on their website.
The objects you see in the attached gallery were fully 3D printed and are just a few of the infinity of designs possible.
Fiber bridging works by allowing the 3D printer to print over thin air, using single filament strands to produce prints that are different from all others.
The paintbrush was entirely 3D printed. You can see the staggering number of fiber columns at the top of the printed handle. Each strand is a single filament fiber.
We suppose that fiber bridging is kind of like applying the principle of 3D printing pens to normal printers and then feeding them steroids.
The layer height setting determined the thickness of the brush strands, implying that the better a 3D printer's resolution is, the thinner the strands can become.
Once the print is complete, all you need to do is remove the top part where the brush strands lead to and you can immediately start using the brush to paint your walls white or whatever.
The practical applications
You won't be able to paint masterpieces, but applying a new layer of paint to a room wall or anything else in a large scale can easily be carried out.
On the other hand, if it's hair you want to put on a bodiless head, you can do that too. You can even make a fir tree imitation, as one of the photos shows. Anything goes really.
However, the fiber bridging technique isn't easy to master, since you need to not only make the models compatible with it but to know how and when to modify Z-height settings.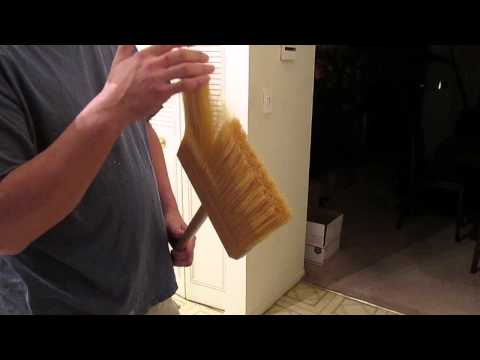 Play Video